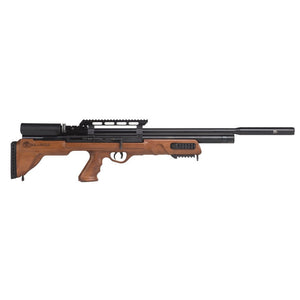 Hatsan Bullboss Bullpup .25 Caliber Wood Stock Side Lever PCP Air Rifle
Description: 
The Hatsan BullBoss QE sets the new standard as to what to expect out of a bullpup air rifle and the price you should have to pay for premium features. Though short and compact, in reality the BullBoss hides deceptively well a 23" long Quiet Energy suppressed German steel barrel that delivers velocities 1070 fps - .22 cal - All with the standard Hatsan features that provide an incredible value at the price point
The Hatsan BullBoss bullpup PCP includes the Quiet Energy suppressed barrel which has been tested by us and shown to severely reduce the report of the gun. It's quiet enough to fire without disturbing your neighbors if you'd like to practice in the backyard. The BullBoss includes Quattro Trigger that is a two stage fully adjustable match trigger. You'll love the weight displacement of the bullpup design that really distributes the 8.6 lbs of the gun well to make this a joy to shoot and creates a situation where follow-up shots are incredibly easy as you can keep the gun shouldered while operating the smooth side lever of the BullBoss. A lot to love about this new bullpup from Hatsan USA.
Specifications: 
Precharged pneumatic power with side-lever cocking action
Bullpup design
Wood stock with ergonomic design
Picatinny rail for both 11 mm and 22 mm scope mounts
Additional Picatinny rail beneath forearm
Checkering on grip and forearm for better control and feel
Elevation-adjustable Cheek Comb - Stock equipped with integrated elevation adjustment button
Ventilated rubber butt pad
Precision rifled and choked barrel for accuracy
QuietEnergy fully shrouded barrel and Integrated Sound Moderator cuts noise by 32%
Rotary magazine: .22 10-rd 
Includes 2 magazines
Detachable steel air cylinder tube (230cc). (Spare cylinders are available)
Built-in pressure gauge on the air cylinder monitors cylinder pressure
Includes quick-fill nozzle & air cylinder discharging cap supplied in the box
Overall blued finish, black anodized receiver
Manual & Automatic Safety
Anti-double pellet feed mechanism prevents more than one pellet loading into barrel
Patented anti-knock system to prevent gas wastage when rifle is knocked or bounced
Quattro Trigger: 2-stage full adjustable match trigger for trigger travel and trigger load
Metal trigger & synthetic trigger guard
Fitted sling swivels
Overall length: 36.8"
Barrel length: 23"
Weight: 8.6 lb
Muzzle energy:  .22 cal=38 fpe, 
Optimal shots per fill: .  .22 cal=35