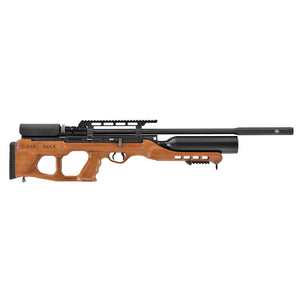 Hatsan AirMax Side Lever Bullpup Wood Stock .25 Caliber PCP Air Rifle
Description: 
Hatsan's AirMax is a high shot count, pre-charged pneumatic (PCP) air rifle 
that has been well-designed and is a tack-driving machine. 
This side-lever bullpup, built with an ambidextrous hardwood stock and available in .177, .22, and .25 calibers, 
is ideal for small game hunting and long-range target practice. 
Utilizing a 400cc bottle and a 90cc air tube housed below the receiver, 
shooters can expect as many as 120 shots per fill. 
Not only do you get quantity, but you also get quality too! 
The AirMax fires at up to 1350 FPS and produces up to 49 FPE. 
It is built with Hatsan's QuietEnergy technology which includes a fully shrouded barrel and integrated sound moderator. 
The AirMax also features the 2-stage, fully adjustable, match grade Quattro trigger, 
that allows for custom trigger travel and load. 
Adding an optic of your choice is easy with the combo optics rail, 
capable of receiving both 11mm dovetail and picatinny scope mounts. 
The AirMax also includes an EasyAdjust elevation adjustable comb, a soft, ventilated, rubber butt pad, 
a metal trigger, sling swivels, and a mounted picatinny rail beneath the forearm. 
Whether plinking or hunting, the AirMax is the perfect balance between high shot counts and high energy.
Specifications: 
Bullpup PCP with side-lever action
Available in .177 (4.5mm), .22 (5.5mm) and .25 (6.35mm) calibers
QuietEnergy fully shrouded barrel and integrated sound moderator
Wood pistol grip ambidextrous stock
Combo optic rail allowing for 11mm dovetail or picatinny mounts
Picatinny rail beneath forearm
Elevation adjustable cheek comb
Precision rifled German steel barrel choked for accuracy
Includes 2 detachable rotary magazines
400cc bottle and 90cc air tube – for 490cc of air storage volume
Built-in pressure gauge
Quick-fill nozzle
Overall blued finish, black anodized receiver
Manual & Automatic Safety
Anti-double pellet feed mechanism helps prevent more than one pellet loading into barrel
Patented anti-knock system to prevent gas wastage when rifle is knocked or bounced
Quattro Trigger: 2-stage full adjustable match trigger for trigger travel and trigger load
Metal trigger & wood trigger guard
Ventilated rubber butt pad
Sling swivels
Max Velocity* – Lead-Free Pellets – .177 cal – 1350 FPS, .22 cal – 1220 FPS, .25 cal – 1000 FPS
Max Velocity* – Lead Pellets – .177 cal – 1250 FPS, .22 cal – 1100 FPS, .25 cal – 1000 FPS
Max Muzzle Energy** – .177 cal – 35 FPE, .22 cal – 46 FPE, .25 cal – 49 FPE